Is buying an electric bike really worth it in 2022?
Electric bikes are taking the world by storm in 2022 like never before. Compared with traditional ordinary bicycles, electric bicycles can help people live and travel in a greener, safer and more sustainable way due to the advantages of cheap, reliable and convenient travel. Electric bikes are becoming more and more a necessity for everyone to travel, and it is changing our way of life.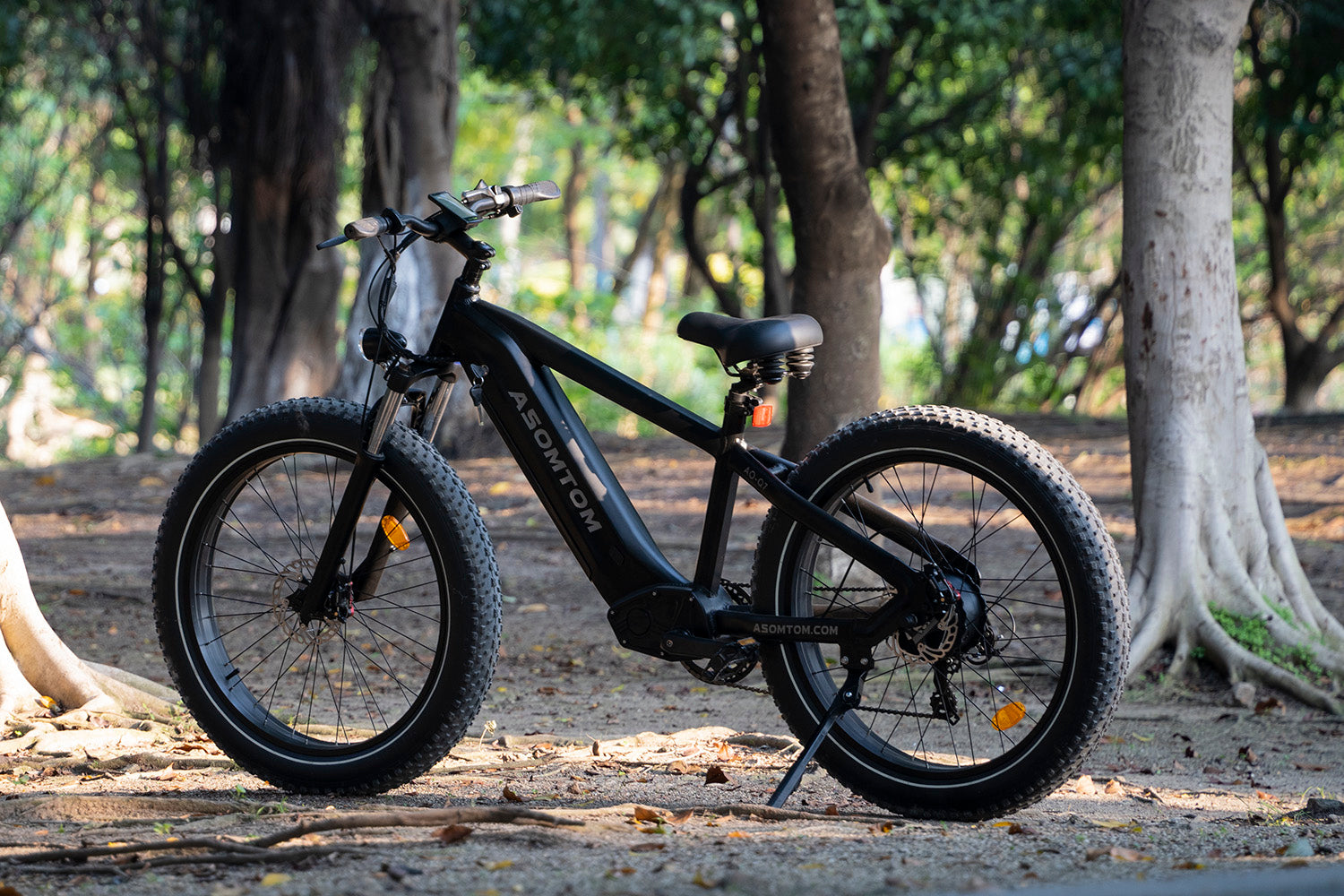 What is the difference between an electric bike and a regular bike?
Many electric bicycles on the market today look similar to ordinary bicycles. The biggest difference between ebikes and ordinary bicycles is that electric bicycles have batteries and motors to drive the bicycle to work. When the motor does not start, the electric bicycle can be used as a normal bicycle.
Electric bicycles are more applicable than ordinary bicycles. Because electric bike have the auxiliary function of motors, electric bike have more power than ordinary bike and can adapt to more terrains. If you want to ride an electric scooter more easily, commute without breaking a sweat and reduce traffic congestion, then an electric bike will be a good choice for you. If you usually want to exercise, the electric bike can turn off the motor or use the auxiliary pedal mode to ride faster and get exercise.
Why e-bikes are growing in popularity
For a long time, for people who like fitness, they like to go out on a bike to play outdoors, or cross rough mountain roads and terrains, there are couples, families, couples or groups who love fitness and cycling. However, after 20-30 miles of riding on traditional ordinary bicycles, many riders will be exhausted and feel very tired. However, electric bicycles can have auxiliary pedal mode and accelerator assist mode, which can greatly reduce physical strength. Let the cycling life go further.
In addition, electric bicycles, like electric vehicles, are new energy sources, energy-saving, low noise and will not pollute the environment, which is a sustainable way of development.
Electric cars are great for urban commuting
Now that many cars are in the city, especially during the rush hour, it will be very congested. Riding an electric bicycle can help you avoid the congestion during the rush hour, and get to work more conveniently, quickly and easily. Just press the pedal a little or use the throttle mode, and you won't be tired and sweaty on your commute.
Urban Commuter Electric Bikes There are three electric bikes to recommend
Asomtom 700C Electric Flat Bar Road Bike RV1 is a 350W Powerful Brushless Motor; Max Torque 35NM can reach a maximum speed of 20mph, 36V/9AH lithium battery, 20-30+ miles per full charge, and level 1-5 assist Pedal mode, you can turn on the auxiliary mode when riding, making riding easier. And this electric bicycle also has a boost mode. When you go up and down the stairs, you can press the button on the handlebar for a long time to generate a forward slight thrust, which makes going up and down the stairs more energy-saving. 700C*32MM Road TireThin Puncture-resistant Road Tires that made of high-quality materials can ReducedRiding Resistance,Making your commute smoother Tires with silver reflective strips for safer night riding.Rv1 and RV2 are both the same configuration and appearance, the only difference between them That is, the RV2 is a belt Single-speed Belt Drive. Compared with the chain, the Belt Drive does not require oil, it is no noise and cleaner, and it does not require oil to maintain like a chain. Single-speed belt drive, Low noise, Smoother, Cleaner without oil,which has less riding noise than ordinary chain drive bicycles, can alleviate the impact of riding and absorb vibration. Simple installation, no need for lubrication, easy maintenance, and repair. You don't have to worry about winding the chain anymore.
Both Asomtom RV1 &RV2 are suitable for men riding, recommended height is 5'5" ~ 6'5"(170cm-195cm).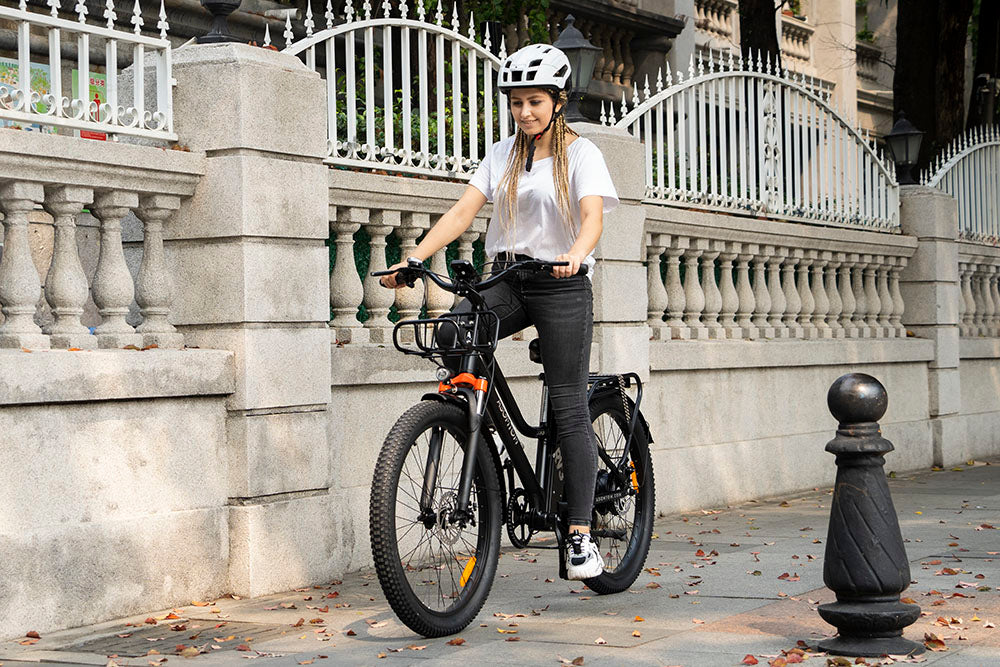 Another commuter-friendly Asomtom RV3 men and women. This Asomtom RV3 is equipped with 350W Motor, Max Torque 50NM, UP TO 23MPH, 36V/10AH Removable Battery can last 30 miles(pure throttle )- 60 miles (pedal-assist )per full charge, per full charge (3-5h).
And with Front Suspension Fork and 26*3" Fat Tire 6.Multifunctional TFT color display, 1-5 Level Pedal Assist can also make commuting easier and faster. Fat tire design can be suitable for all kinds of terrain including grass flat sand beach. And the bike is also equipped with front and rear racks, Durable, versatile bike cargo Rear rack up to 330 lbs Max. Payload Capacity is included for more luggage during your trip or perfectly carry your lovely pet for a ride or take your cute child to school.
Electric bikes are the future of commuting because they are convenient and environmentally friendly. There are many types and settings to choose from, so you should be able to easily find the one that works for you.
While e-bikes are more expensive than regular bikes, they are worth the investment. The initial cost of buying an e-bike is high, but the charging cost is negligible compared to the cost of refueling the car. Also, since you can choose the level of paddle assist, an e-bike will help you stay in shape without stressing your muscles.