What Types Of Motors Are Used In E-bikes | Asomtom ebike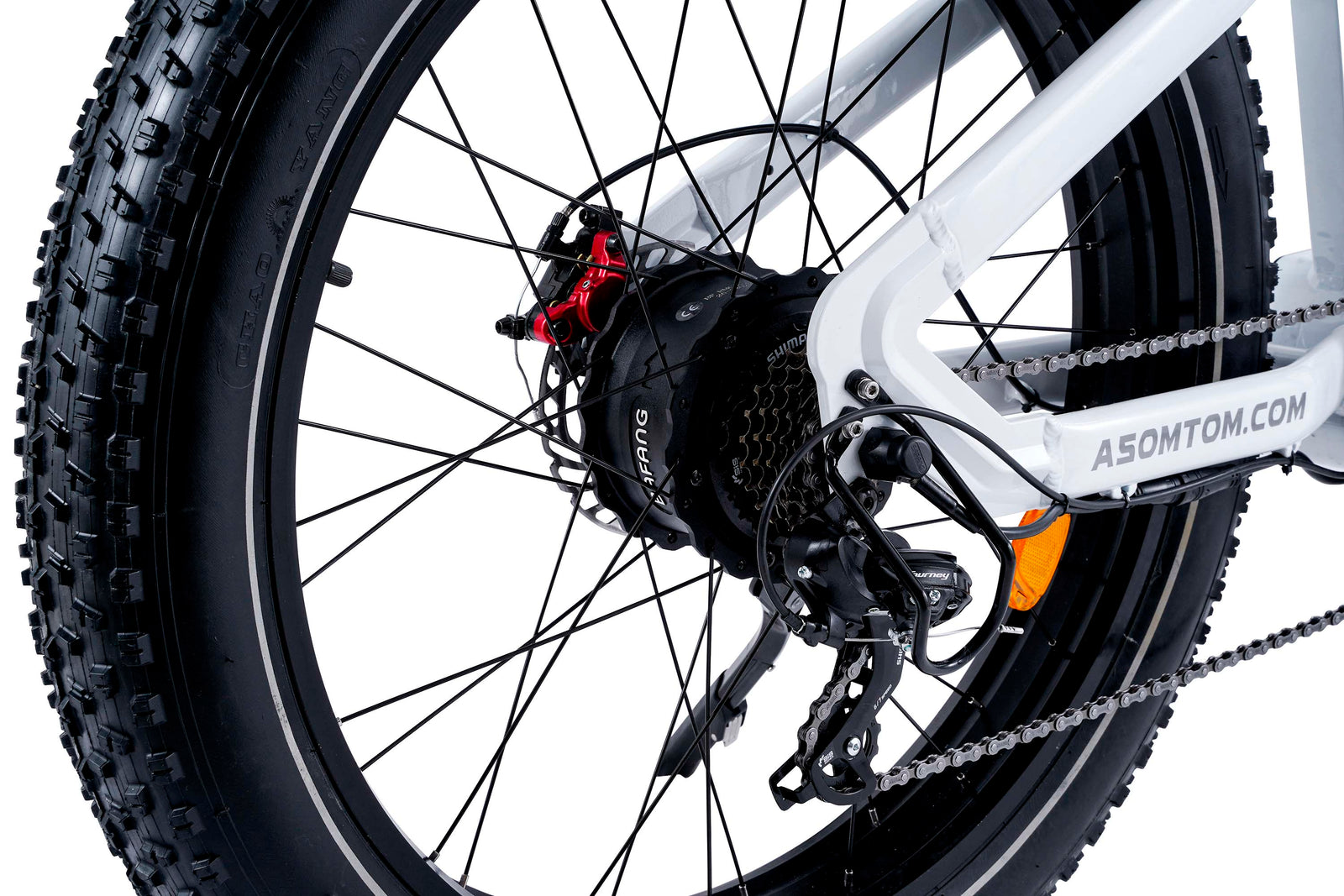 In recent years, the electric bike has been developing continuously. With the continuous advancement of technology, the motor used by ebike is also constantly being upgraded. Nowadays, more and more brands of bicycle manufacturers are making brand motors, and the various parameters of the motors are also different. You can choose the electric bike that suits you according to your bike needs.
Brushed and Brushless Motors
Motors are divided into brushed and brushless motors. In the process of manufacturing ebike, manufacturers usually use brushless motors. Although professionals believe that brushed motors are stronger, because brushless motors are lighter, quieter and smaller Features are very popular in the market. The bottom line is that the brushless motor requires no maintenance for optimal function.
In essence, both brushed motors and brushless motors can achieve good performance, but the quieter and lighter characteristics of brushless motors are better used in the Commuter Electric Bike for urban commuting. Asomtome commuter ebikes use a 350w brushless motor, these ebikes can traverse the city briskly and quietly without making a lot of noise.
Another innovation in brushless motors is the permanent/sensorless magnet BLDC (Brushless DC). This brushless motor uses magnets instead of electronics to detect the position of the armature. This reduces the noise and weight of the motor and improves the overall ergonomics of the motor. Users don't usually observe this feature, but it can improve battery life.
Direct Drive/Hub Motors
Direct drive/hub motors are less expensive, and the location of the motor is usually placed in the center of the bike wheel, so it becomes a /hub motor. / The hub motor can be placed on the front or rear of the bike, but it is more common to place the rear hub motor.
This electric bike is divided into single gear, just like Asomtom Electric Flat Bar Road Bike RV2 is a commuter electric bike with 350w brushless motor and single gear, and this bike is equipped with Belt Drive, which is quieter and cleaner without oil during riding. , which has less riding noise than ordinary chain drive bicycles, can alleviate the impact of riding and absorb vibration.
However, you may come across geared hub motors with multiple gears and are a bit more
expensive than normal. But with a 350W hub motor like the Asomtom Cruiser Commuter Electric Bike RV3, Shimano 7-Speed, 26*3.0" fat tire design you don't have to worry about multiple gears or hilly terrain.
Crankshaft drive motor
If your ebike motor is installed in the crank, you can clearly know that you are using a crank drive motor. Crank drive motors are the more popular bike motors, and there are many advantages to crank drive motors. Most of the weight of the crank drive motor is in the middle of the bike, which minimizes impact and makes pedaling feel natural. The motor is also directly tied to the gears and pedals, so it ensures a smooth and reliable ride. Installing or removing tires is easy and less stressful than in-wheel motors.
Geared hub motor
Geared hub motors or direct drive motors have similarities. Compared with other motors, the geared hub motor rotates more slowly and has a smaller diameter than the hub motor, so this type of motor is rarely used in the market.
If you're looking to buy a bike and want to buy an e-bike that's right for you, then you should definitely take the time to learn about the types of motors available for e-bikes.
---