E-Bikes with supesion What You Need to Know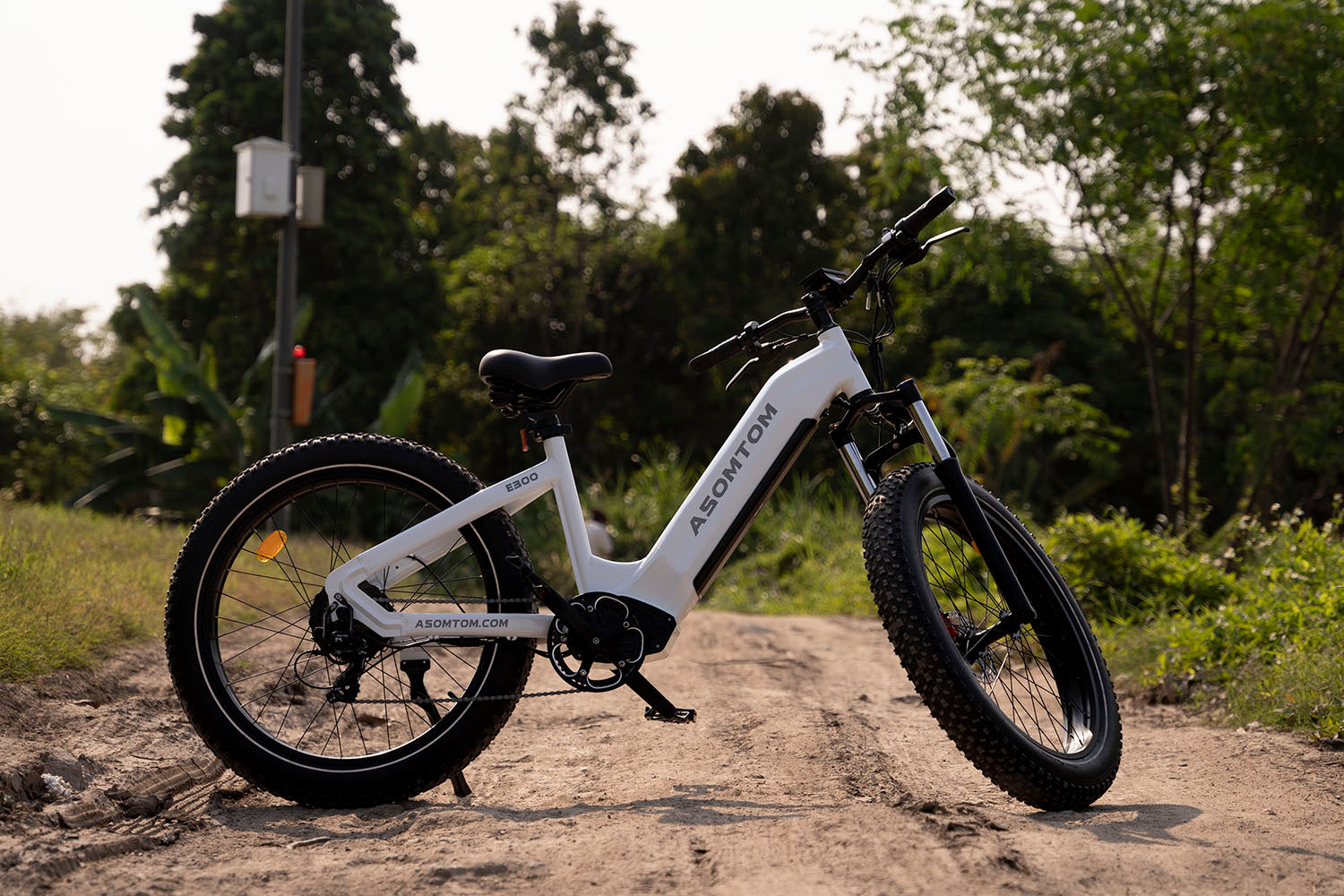 Do you know anything about electric bike with suspension? If you're looking for an off-road mountain e-bike or an e-bike for rough terrain, then you need to know something about suspension bikes.
The suspension of the bike is divided into full suspension, rear wheel suspension and front fork suspension. Knowing the e-bike suspension function can help you choose a bicycle that suits the type of road you usually ride and bring you a good riding experience.
Suspension e-bike
Suspension e-bike can reduce the feeling of riding bumps when riding on rough mountain roads. Suspension bikes are usually found in mountain bikes
Or there will be full suspension in off-road bicycles. Some models only have shock absorbers at the rear, which are called soft tail electric bicycles. Generally, ordinary bicycles have front fork suspension functions, and such electric bicycles are called hard tail electric bicycles.
It's not that the more shocks the better, the type of shock absorber still depends on the type of road you usually ride. It is best to choose a bike that suits your riding style.
What type of suspension bike is right for you?
If you usually only ride on hills or ridges, and occasionally ride on flat roads, then I recommend that you can directly use a bicycle with a front fork suspension. If you're planning extreme mountain biking on treacherous trails and planning a lot of downhill racing, then you might want to consider a full-suspension bike. They generally provide the most absorption and can improve handling in these situations.
Of course, when a full-suspension bicycle brings a good experience, it usually costs more than the front fork or rear suspension. Unless very professional off-road riders need a full-suspension bike, most people actually You don't need a full-suspension bike, fork suspension or rear suspension is more than enough.
At Asomtom, we make three different electric bikes. RV1 & RV2 are our electric hybrid bikes designed for city living and commuting. The RV3 is our everyday electric cruiser ebike with a spring-loaded front fork to make traveling a pleasure. The Q7 & E300 is our rugged electric off-road ebike built with suspension for a smooth ride.
The RV3 comes with a spring front suspension fork. The 350W brushless motor can reach a maximum speed of 23mph, coupled with the large and grippy 3.0" fat tires, which can effectively absorb the shock during riding, help better control the direction, and bring a more comfortable riding experience. Lockable The design helps adjust to suit different terrains.
The Q7&E300 is equipped with hydraulic front shock for powerful shocks and a Shimano 7 derailleur 750w motor for flattening rough things up to 28mph, plus big, grippy 4.0" fat tires for a comfortable adventure. It It can definitely tackle rough mountain terrain with ease, but it can also take on adventures on sand, snow, and speed bumps on city streets. It's not a full-suspension e-bike, but it's well-equipped to take you from Unexpected places.
Although the suspension will definitely affect your riding, you also need to consider other functions when looking for an electric bike that suits you. The best way to choose an electric bike is to consider all your needs.
If you are looking for an off-road e-bike, you need to make sure you choose one that will power your adventures. For example, the Q7&E300 is equipped with a 750w mid-mounted BAFANG drive motor for a maximum speed of 28mph. Powered by a Shimano 7 derailleur 48v15A integrated battery, it is weatherproof, removable and lockable. The battery can travel up to 80 miles on a single charge.
They feature three pedal assist modes (throttle /pedal-assist/normal bike., and a walk assist mode) so you can decide how much extra power you want at any given time. For an electric mountain bike, it's also lightweight. The Q7&E300's battery weighs just 55 pounds, making it easier to transport and maneuver than many other heavier electric mountain bikes on the market. When using the suspension front fork, you can choose to open or lock it according to the terrain. When the brake is used, there will be a power-off function to protect the rider more safely during riding. High quality aluminum frame that is lightweight yet durable enough to ride in any weather. High power integrated front and rear lights and reflective tire walls ensure you can see and be seen day or night.
The main difference between Q7 & E300 is that one is the E300 walk-in model, which is more friendly to women, and the Q7 is a high-frame model, suitable for boys.
 Although the Asomtom RV3 has the function of front fork and fork suspension, it is more suitable for walking on hilly roads or urban commuting.
350W brushless motor, 36V 10A locking removable battery can last 35-45 miles, also RV3 has three pedal assist modes (throttle /pedal-assist/normal bike., and walk assist mode), Shimano 7 derailleur, high quality Aluminum frame that is lightweight yet durable enough to ride in any weather. Comfortable seat and handle for easy commuting. A sturdy rear shelf that easily fits a basket, crate or litter box to store all your daily essentials. The sturdy back rack can carry your lovely pet for a ride or take your cute child to school.
If you're looking for a high-quality electric mountain bike, you'll definitely want to pay attention to the various bike suspension types. This is important if you plan to cover rough terrain and like to travel at high speed. Remember, more suspension doesn't always result in a better ride. This is the overall bike and its overall capabilities you must evaluate to get the best riding experience for your needs.
---